What is hope?
I googled the definition of "hope" and this is what came up from dictionary.com.
Hope
Noun
- a feeling of expectation and desire for a certain thing to happen.
- a person or thing that may help or save someone.
- a feeling of trust.

Verb

- to want something to happen or be the case.

I'm sure we can all agree that we hope for many things. As kids, we hope that we get the gifts we want for birthdays and Christmas, we hope that the school week goes by quickly or we hope that we get to have that play date with our best friend.

As high schoolers, we hope that we get asked to the school dance, we hope that we get into the college of our choice or we hope that we pass that class that challenges us.

As college grads, we hope that we'll get hired, we hope that we'll find a boyfriend/girlfriend (future spouse) or we hope that we'll make new friends.

And the list goes on. We hope for so many things on a daily basis that often those tiny details go unnoticed because they become mundane and sometimes we even take those things that were once "hopes" for granted.

What is the purpose for hope and why does it matter then when hope begins to fade?

Sarah Young in her devotional, Jesus Calling, says, "Hope is a golden cord connecting you to Heaven. Without it, your head may slump and your feet may shuffle as you journey with Me."

I've noticed lately that I'm a foot shuffler…literally. You know what happens when you shuffle your feet in a grocery store? You get shocked! Seriously, every time I reach for something off of a shelf, I get the shock of my life. I'm convinced people must look at me weird because I let out a scream and I start talking to myself. I try to be conscience of picking my feet up, but about 15 minutes or so into grocery shopping, I let my defenses down and wham! another shock.
Last week I had the privilege of seeing hope lived out. I was asked to join our women's ministry director and another member to go and visit a micro-finance ministry in the Dominican Republic called Esperanza International (
www.esperanza.org
). For all my non-Spanish speaking friends, guess what Esperanza means?
If you guessed "hope" you are right!
Giving out hope in this world means many different things. Some people give hope in the form of a handout. That hope quickly fades once the handout goes away. The only thing that can then be hoped for is the next handout.
Doctors give out hope disguised as medicine. What happens when that medicine fails to work? Hope can quickly fade.
But what happens when we combine practical things with spiritual things? We get that hope Sarah Young refers to as being "the golden chord that connects us to Heaven."
Hebrews 11:1 actually uses the word "hope" to define faith
Now faith is the assurance of things hoped for, the conviction of things not seen.

Depending on the version of the Bible you read, the word "hope" appears between 125 times and 175 times. The word appears both in the Old Testament and the New Testament. Biblical hope covers all three aspects of the noun version of hope according to dictionary.com.
- We hope in the things that God has promised in His Word.
- We, believers, have put our hope in Jesus who was sent as someone to save us.
- We put our trust in the Lord.
As we sat in a small, humble home last week in one of the Esperanza bank meetings, this hope hit me. The name of this particular group of people was the "Bank of David." They named themselves this because they wanted to be people who chased after the heart of God like David. As they sang worship songs in Spanish all about David (his Psalms even sound beautiful sung in a language you don't quite understand), this hope rang out in my ears. David was a man who lived with constant hope. And these people live with this same hope. Their hope was not in Esperanza or the man who founded Esperanza or the people who worked for Esperanza or even in themselves. Their hope came from the Source of all hope….God himself. I don't know for sure that every single person sitting in that room was a follower of Jesus Christ, but I can tell you that some were. Their hope was apparent and the fact that God had orchestrated these people to be in the same room together, living a life in community and being the great Provider that He is, there is no doubt that at some point, each and every person will come to the same place – they will have to acknowledge that there is a God who is the controller and giver of hope…even if they end up denying Him.

Where is your hope? Does your hope look like David's hope in the Psalms?

Psalm 31:24 Be strong and take heart, all you who hope in the LORD.

Psalm 33:20 
We wait in hope for the LORD; he is our help and our shield.

Psalm 33:22 May your unfailing love rest upon us, O LORD, even as we put our hope in you.

Psalm 39:7 
"But now, Lord, what do I look for? My hope is in you.

Psalm 42:11 
Why are you downcast, O my soul? Why so disturbed within me? Put your hope in God, for I will yet praise him, my Savior and my God.

The people we met last week have been given a chance at hope - hope because they have people who care about them that are using resources to pour into them and give them a hand up not a hand out and they have people who are pouring the Word of God into them.
These people are moms, grandmoms and dads who are hopeful for their future and the future of their children. They have a hope that they will be lifted out of the pits of poverty (both physically and spiritually) not only for themselves and their families, but for the people in their communities, in their cities and in their country.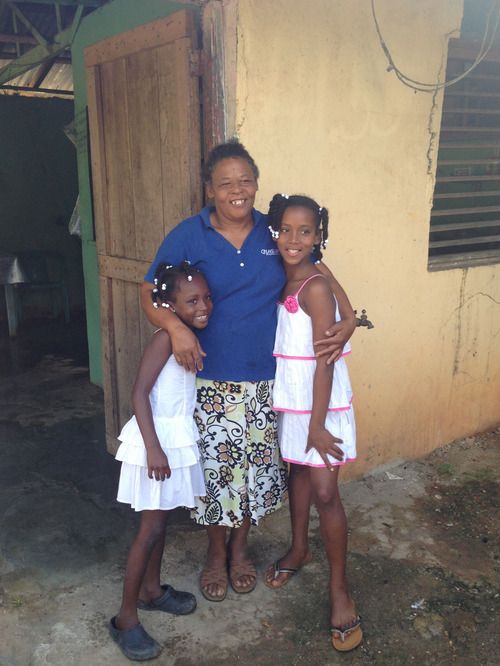 We can have little, but have more hope than someone who has everything…it all depends on where our hope comes from and where we think it gets us.

God-given hope allows us to keep our spirits up which allows us to see and move in ways we never imagined possible. Hope is a lifeline for us and for others. Be a partaker in the hope that God wants to give you. If you are lacking in hope right now, pray and seek God, but also surround yourselves with people that are living hope-filled lives.

Last week, I was blessed beyond measure by just spending time in the presence of hope-filled people. Perhaps together, we can hold our heads up and not shuffle our feet.
3 Comments
Millie zarco
- February 2nd, 2014 at 3:20am
I live in Puerto and this is the first I've heard of this organization. Is it in Santo Domingo?
Erin Olson
- February 2nd, 2014 at 10:00am
Millie, yes, their main office is in Santo Domingo. They work throughout the Dominican and also a small part of Haiti.