On a recent trip to the Dominican Republic, I snapped a couple pictures from the airplane. I had to have a memory of the fact that I was facing a fear. I have an irrational fear of drowning. I think I may know where it started, but nevertheless, it is irrational. So you can imagine that the prospect of flying over a body of water for an extended period of time (even if land is in sight) is a little nerve wracking for me, but I did it.
Honestly, I can swim. I even swam on the swim team in high school. I am not a natural athlete so it all needs to be taken with a grain of salt. In fact, my high school swim coach awarded me with the "Most Improved Swimmer" award because in his words (in front of everyone attending the awards ceremony…to my adolescent horror), "The first time I saw this girl in the pool, I thought she was drowning. She has come a long way in a season." If nothing else, I have determination…and a little bit of stubbornness.

Okay…back on track to where I was going with all of this.

You know that feeling when you are about to start something? Maybe it is the moment you are standing on the starting blocks staring at the pool lane in front of you and the clock is counting down….3, 2,…beep. Or maybe it is right after you take the field during a football game…the referee blows the whistle and the next sixty minutes are full speed ahead. Maybe it is after you make the decision to jump out of an airplane (bless you) and as soon as you step out, there is no turning back.

That moment is precisely where we are as a family…we've stepped out of the boat and are hoping that we have more faith than Peter and that Jesus will not let us sink. Because seriously, I know God knows I have an irrational fear of drowning and He's got us, right?!?!

I have had adoption on my heart for over a decade. A year after my oldest son was born, we found out we were pregnant. However, eleven short weeks later, I miscarried that baby. For the next twenty months or so, we tried to get pregnant and it didn't happen. During that span of time, my mind often wandered toward adoption. I looked, researched and questioned from where, but deep down inside, it didn't make sense and the timing felt off.

Finally after twenty-two months of waiting, we found out we were pregnant with our second child and then when she was just a little over a year old, we got pregnant again. During my last pregnancy, I had some health issues and honestly did not think I could carry another child so we were planning on taking some measures to ensure that I could not get pregnant again.

I remember my doctor looking me in the eyes at one of my last prenatal appointments and saying, "I will only do this if you can honestly say that, God forbid, something were to happen to one of your children that you would not want to become pregnant again." Of course I said, "Yes, I am sure. No more." But seriously, I was eight months pregnant, I had gained sixty pounds and it was September in Texas. It was a perfect storm.

Shortly after my third child was born, that adoption thing crept back into my spirit. I called a couple agencies and they were adamant that I could not adopt out of birth order and I knew I really didn't want another infant. So back in the files it went.

Fast forward to two years after my third child was born and due to health issues, I had to have a complete hysterectomy. The finality of knowing it is never a possibility to bear a child again does something to a woman. Maybe it's the hormone fluctuations, but it can make you cry and feel sad…especially when you are still within child-bearing years.

Raising three children and dealing with some life bumps in the road have kept us busy, but the adoption thing has always been there. To ease this feeling, I'd sponsor children around the world. I thought it might fill that feeling. Nope, the feeling was still there.
In 2009, my possible scenario adoption focused on Haiti. I can't even remember why, but there was something about the island, the people and they spoke French (& Creole mostly) (in my stubbornness, I took four years of French, not Spanish, in high school…crazy for a girl who grew up in Southern California). And then in January 2010, the largest earthquake in 200 years rocked Haiti.
It was so chaotic at that time that all I could do to help was send money and eventually sponsor children at orphanages and send more money to help build "safe houses" for girls who had aged out of the orphanages so that they didn't end up in sex-trafficking.
I thought that was the end of the adoption thing for sure. Haiti's adoptions were closed off and on (or completely backlogged thanks to Hurricane Sandy), for the next couple of years.
However, in March 2010, God delivered two powerful dreams to me. They were so real. So real in fact, that I wrote them down in my journal. As I pulled that journal out a couple weeks ago, I tried to make sense of the dreams. When I first received the dreams, I thought it was because we were contemplating a move to an island in South Carolina and God was sending me a warning that we shouldn't be moving there.
One month later, April 2010, God sent me another dream. Different than the first two, but still I thought they were in connection with where I was asking Him to allow us to move.
We didn't end up moving, not because of the dreams, but because of circumstances.
Fast forward to April 15, 2011, and God sent me yet another dream. This dream was in a different setting than the three prior dreams, but the tone of the dream was the same as the other three.
I am in the midst of leading a Bible study right now and we are talking about the story of Joseph (
Restless by Jennie Allen
). His dreams and the subsequent two dreams that Joseph interpreted for Pharaoh had a huge impact on God's story. Joseph had to wait for thirteen years for the dreams that God gave him to come to fruition. Thirteen years!
Even as I started typing this blog and as I was reading my journal, I started second guessing myself. Maybe God was really warning us that He didn't want us to move where I wanted us to move. Maybe I am completely wrong. I talked myself out of it so much that I actually had to walk away from this blog for a while and do something else.
But as a wrestled with the possibility that maybe I am just wanting something that isn't, I returned to scripture and the promises I know that God has made to me.
In my spirit, I know that the step we are taking is just the beginning of something even bigger than we can ask, think or imagine.
Yes, we are stepping out of the boat and moving forward with the adoption process. However, I believe that what will transpire is bigger than just one child. This adoption is just one step in the greater plan that He has in store for us, for a little girl waiting in an orphanage in Haiti and for the island of Hispaniola itself.
So as we step out in faith, totally afraid of drowning, I will cling to a verse I cling to often, Habakkuk 3:19,
The LORD God is my strength, and He will make my feet like hinds' feet, and He will make me to walk upon mine high places.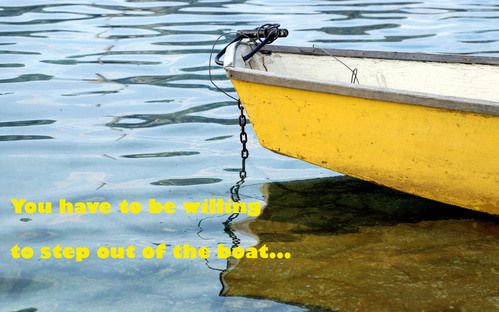 2 Comments
Gil
- February 14th, 2014 at 11:48am
Wow what a powerful, personal story. To be so open to receive such a gift from God is quite a testament of faith! You and your family will be in my prayers.