​This past Wednesday, students (as well as parents and faculty) circled flagpoles on elementary, middle school, high school and college campuses around the world. They met in the wee hours of the morning before the school day officially started. They met to participate in the annual See You At The Pole™ event. This event, according to their website, was birthed out of a youth group in Burleson, Texas in 1990 – "As in all great movements of prayer, See You at the Pole™ did not begin in the hearts of people. It began in the heart of God. God used the obedience of a small group of teenagers to ignite what has become an international movement of prayer among young people." This small event has grown to over 3 million students participating worldwide. (
http://syatp.com
)
​"Therefore I tell you, whatever you ask for in prayer, believe that you have received it, and it will be yours" (Mark 11:24).

My children's school was blessed to be able to participate. It was humbling to see young students participating in corporate prayer, not ashamed to pray out loud with their friends and fully confident that God hears their prayers. As I looked at pictures posted by my church's children's ministry (who is so awesome and went to schools represented by our children's ministry) and by my friends whose children attend other area schools, my heart was full at times and my heart was sad at times.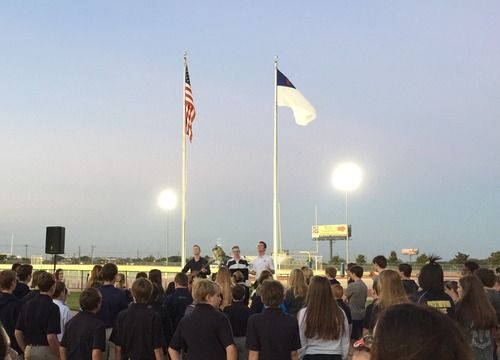 ​Some of the flagpoles were surrounded by lots of children (and full dress football teams straight off the field from morning practice) and some had only one child or two siblings. One friend wrote that year one, she was the only one at her daughter's flagpole, year two same thing, but the next year, some showed up and this year the group has multiplied. Persistence and consistency is how we are called to walk in this life.
​Prayer does not stop at the pole. Prayer is not just about our own needs. As believers in Christ, we have the unique ability to bring our requests to the Father in Jesus' name, but we also have the special blessing to be able to intercede for others – our loved ones, our schools, our communities, our leaders, our nation and the nations.

"Therefore confess your sins to each other and pray for each other so that you may be healed. The prayer of a righteous person is powerful and effective" (James 5:16).

We are a country in need of repentance, forgiveness and healing. In two landmark decisions, Engel v. Vitale (1962) and Abington School District v. Schempp (1963), the US Supreme Court established what is now the current prohibition on state-sponsored prayer in schools. No longer is prayer a part of most schools in America. However, let us pray that groups of children and young adults will stand strong and continue to gather to pray with their peers - "For where two or three gather in my name, there am I with them" (Matthew 18:20).

Let's pray Galatians 6:9 over these children…may they not grow weary in praying and may their witness draw others to Christ.
Bring Your Bible To School Day
™ is coming up October 8, 2015. For more information click
here
.